… j'ai eu besoin de créer des cartes pour divers événement.
Comme il y a bien longtemps que je n'ai rien posté, j'ai décidé de partager avec vous
les quelques photos que j'ai prises avant de les envoyer (lorsque j'y ai pensé - LOL !!!).
During these last months, I created some cards for various occasions.
As I did not post anything for a long time, I decided to share with you
the few pictures I took before sending them (when I did remember to do it - LOL !).
Voici une carte de remerciement. Le motif est une création de Newton's Nook Designs.
J'adore leur « clear stamps », surtout la collection de Newton bien entendu,
la STAR de l'équipe et une grande source d'inspiration.
Ce modèle s'appelle la sieste de Newton, mais il me fait toujours pensé à : Jamais TROP confortable !
Here is a thank you card. It's based on a Newton's Nook Designs' creation.
I love their clear stamps, specially the Newton's collection, of course,
the STAR of the NND team and an every day inspiration.
This stamps set is called Newton's naptime, but when I see it, the first think coming
to my mind is : Never TOO confortable !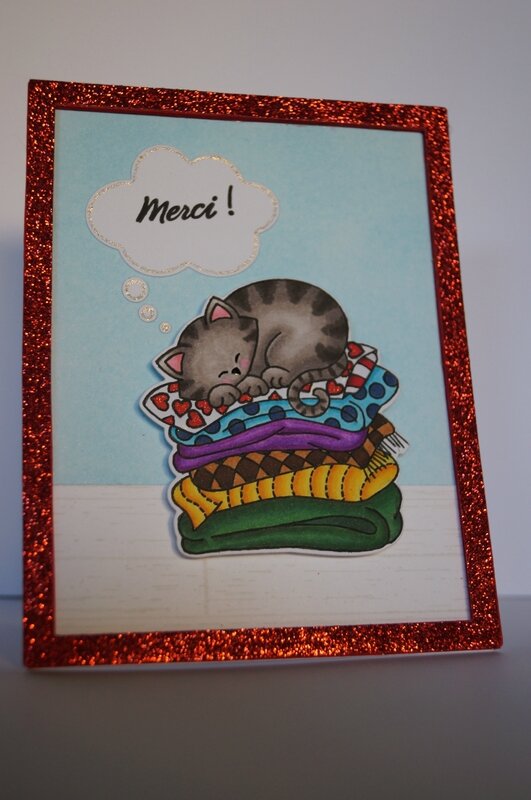 Voilà une deuxième carte créée pour un anniversaire. Le set de tampons utilisé
a été créé par Gerda Steiner, une autre brillante créatrice.
I created this second card for a birthday. The clear stamps set I used
is a Gerda Steiner's creation, another fantastic designer.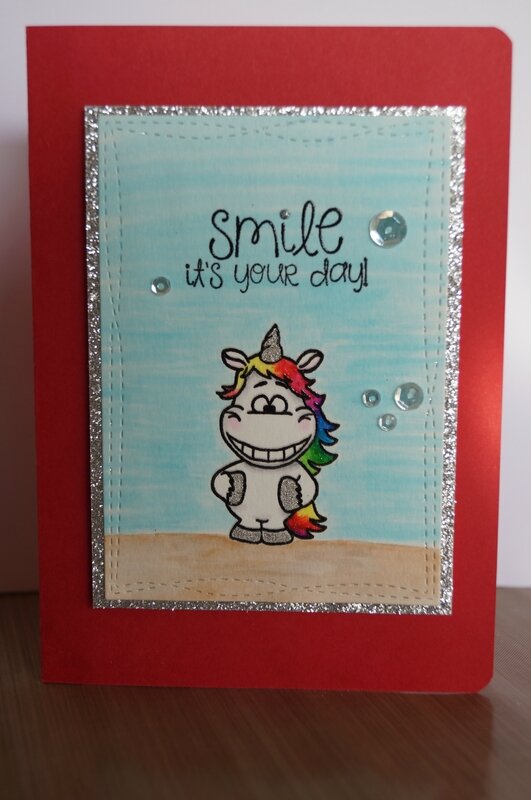 Une petite carte peut-elle aider une personne souffrante à se rétablir plus rapidement ?
Je n'en sais rien, mais au moins, elle aura apporté un peu de réconfort.
Malheureusement, j'ai à nouveau eu des problèmes avec le velum.
Je pense avoir trouvé une solution, je suis encore en phase de tests.
Can a card help someone to recover more quickly ? I don't know,
but at least, it will bring a little confort.
Once again, I had trouble with the velum. I have maybe found
a solution, but I still have to work on it.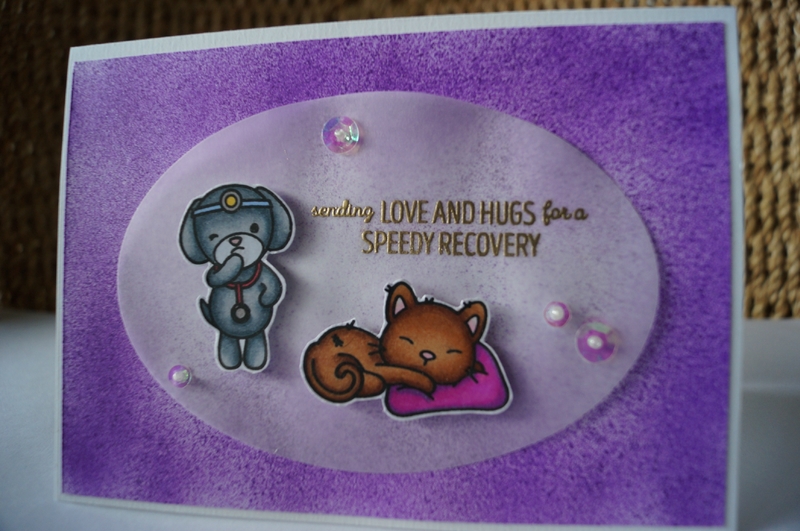 Voilà une carte créée pour un anniversaire qui tombait en automne.
J'adore les écureuils et je n'ai pas pu résister à la création de Gerda Steiner.
Et comme ces adorables petites boules de poils sont des hyper-actifs chroniques,
un « wobble » est un parfait petit plus.
I created this card for an autumnal birthday.
I love squirrels and of course, I had to get this Gerda Steiner's creation.
And as these adorable little fur balls are hyperactive, a wobble is perfect.
Voici 2 « shaker cards », cartes à secouer en français 😉, que j'ai créées pour
participer à des challenges, toujours pour Gerda Steiner.
I created these two shaker cards for some challenges, once again with Gerda Steiner.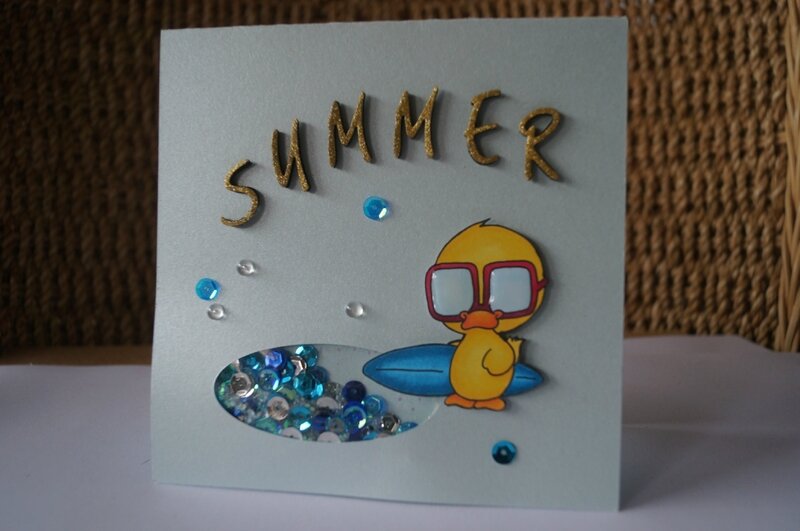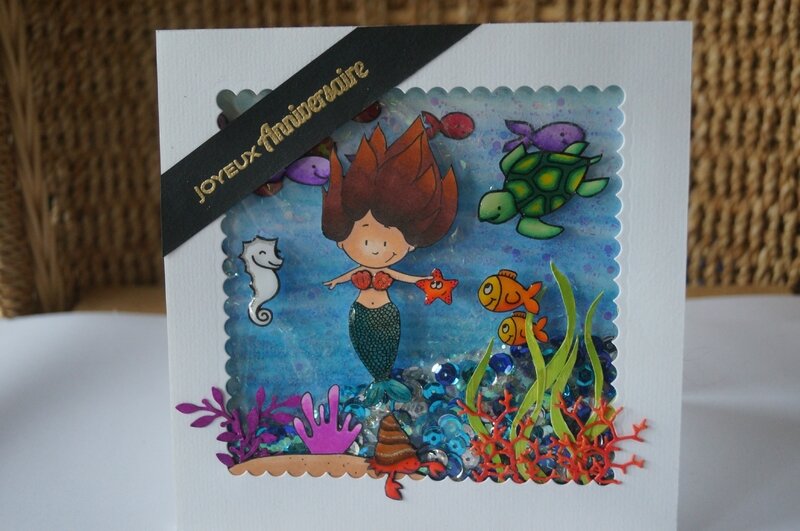 Nous voilà à nouveau chez Newton's Nook Design, mais cette fois avec un chien.
Leur set de tampon Journées d'été de chiens est absolument hilarant !
Vous allez plus que certainement le revoir sur mes cartes.
We're back with Newton's Nook Design, but this time with a dog.
The Dog Days of Summer stamps set is hilarious !
You will surely see it again on my cards.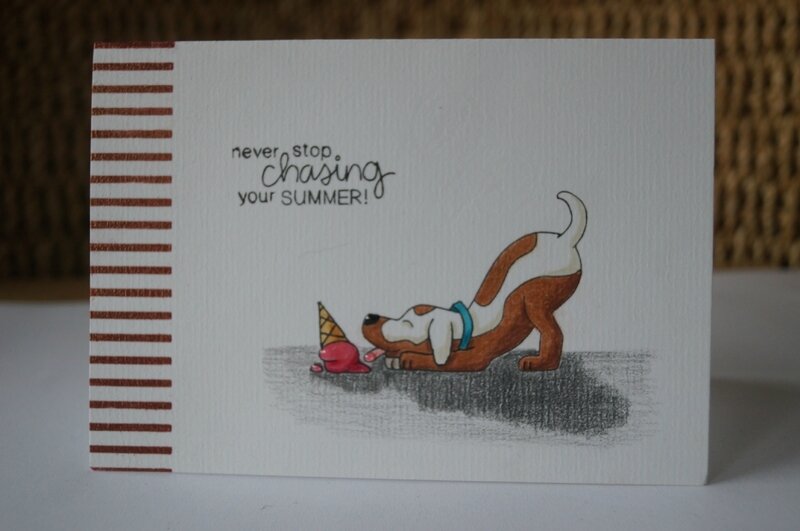 Je trouve les cartes « trifold » (pour la version française…. trois plis ???) absolument géniales.
Cet essai me plait bien. C'est à nouveau un set de tampons de Gerda Steiner,
pour une carte d'anniversaire.
I find trifold cards just awesome. So I tried and I find my card not too bad.
This is once again a Gerda Steiner's stamps set for a birthday card.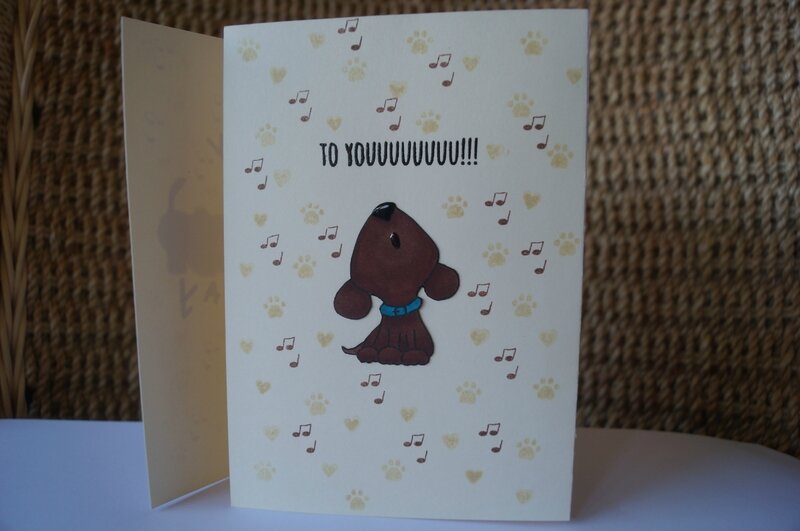 Et une fois lancée, j'ai décidé de compliquer l'exercice en y introduisant un shaker.
Cette fois, j'ai opté pour Waddles, un pingouin créé par Your Next Stamp,
une compagnie canadienne absolument géniale. Des pingouins à la plage, j'adore…..
As I was happy with the first try, I decided to make it more interesting by adding a shaker.
This time, I decided to choose Waddles as my main character. This critter has been created by
Your Next Stamp, a Canadian company absolutely amazing. Penguins at the beach… I love it !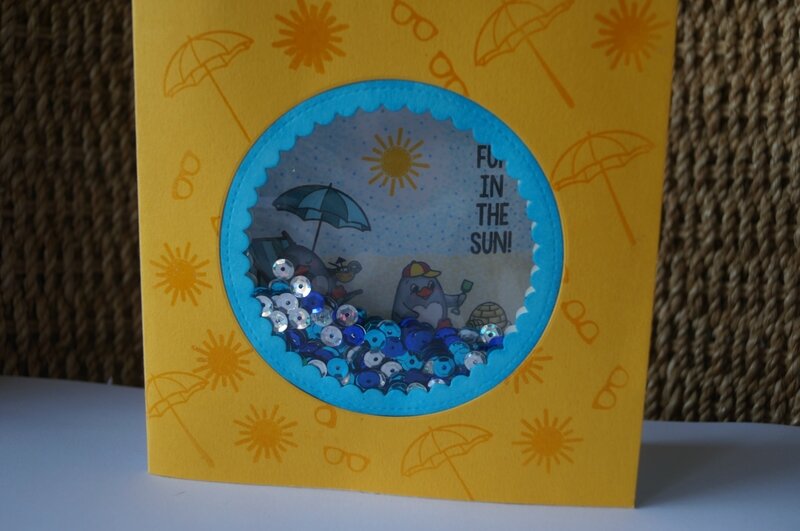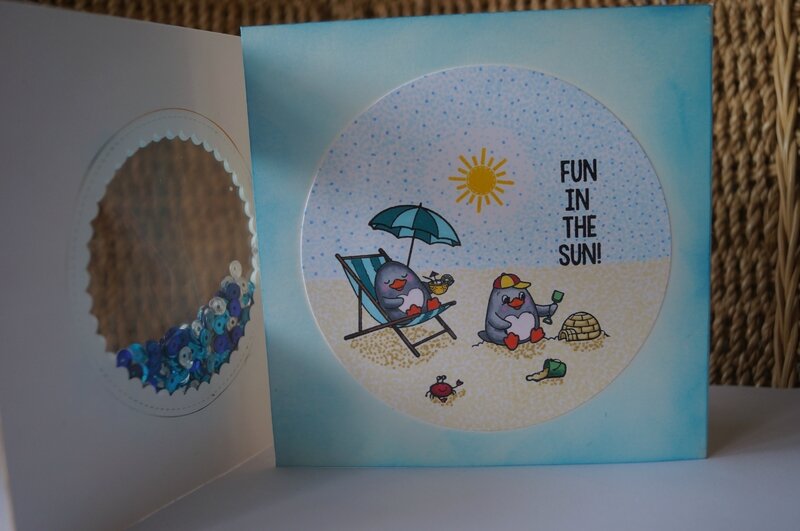 Voilà, c'est tout pour aujourd'hui. Je me rends compte que j'ai un vrai problème avec mes cartes,
j'ai toujours l'impression que mon travail n'est pas bon.
J'ai commencé des dizaines de cartes mais tous ces essais finissent à la poubelle.
Une de mes résolutions pour cette année est de finir mes cartes,
même si je trouve ce que je créée trop mauvais pour être assemblé.
Lorsque j'ai vraiment besoin d'une carte, je suis généralement contente du résultat final,
donc plus d'hésitation et de tergiversations, il faut que je progresse et ce n'est possible qu'en essayant !
Je vous souhaite une bonne semaine et vous remercie d'avoir pris le temps de visionné mes créations.
That's it for today.
I realized that I've a big problem with my cards, I always have the impression that my work is worthless.
I've started to work on dozens of cards but all these trials ended in the trash.
One of my resolution for this year is to complete my cards, even if I find the work too bad to be assembled.
When I really need a card, I'm usually happy with the final result,
so no more hesitation or dithering, I need to get better and it's only possible by trying.
I wish you a great week and I thank you to have taken the time to visit my blog.