Je suis certaine qu'il vous est déjà arrivé d'oublier l'anniversaire d'une personne
et que vous ne savez pas comment vous faire pardonner.
J'ai la solution : le rire !
I'm sure you have already forgotten to send a card to a good friend on time
for his/her birthday. This will help you :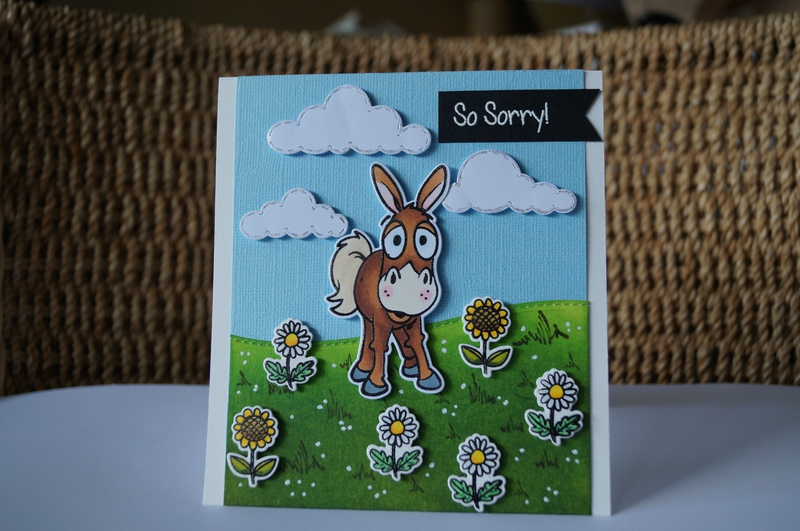 Vous voyez, vous souriez ! Comment résister à ces grands yeux implorant le pardon ?
Aren't you smiling ?
It's just impossible to resist to these big eyes asking for comprehension.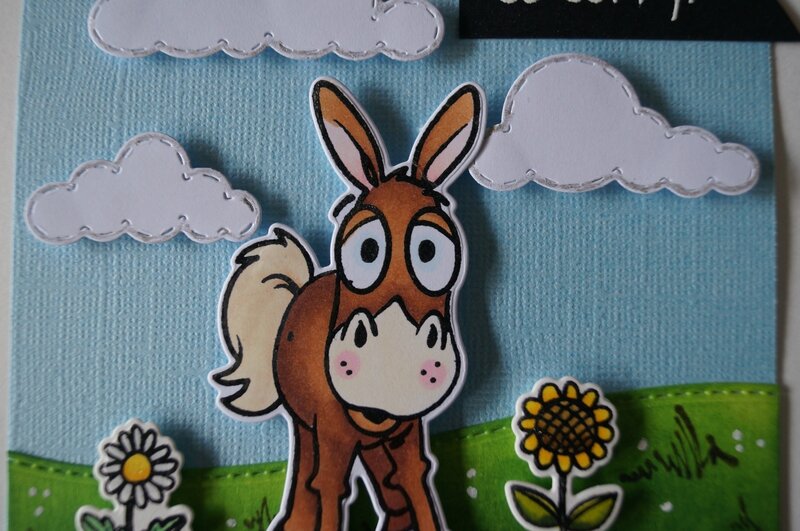 Le tampon utilisé pour cette carte fait partie du set "So Sorry", créé par Your Next Stamp.
Comme toujours, ce sont des clear stamps de très grande qualité.
Pour l'intérieur de ma carte, j'ai sélectionné un des excellents sentiments du set.
For this card, I used the clear stamp set "So Sorry" by Your Next Stamp.
As usual, the quality of these stamps is just fabulous.
And the sentiments of the set are hilarious. I used one for the inside of my card.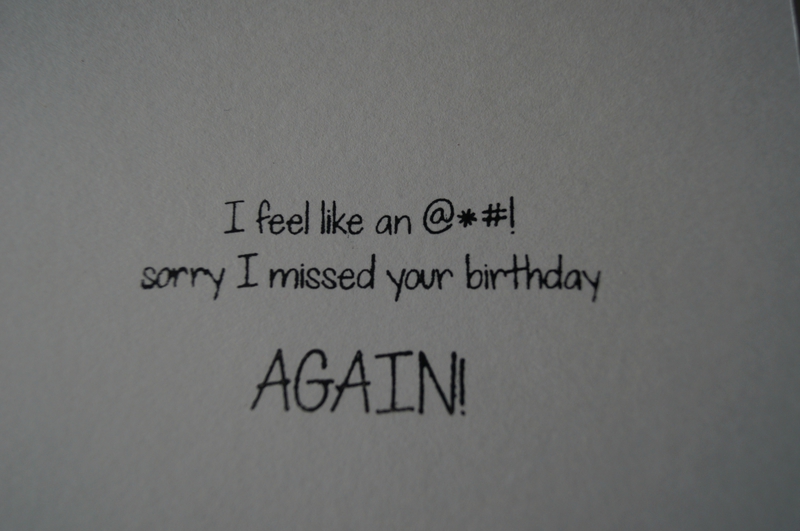 Pour remonter le moral de mon petit âne, j'ai pensé qu'il aimerait être entouré de jolies fleurs.
Je les ai trouvées dans le set "Garden Phoebe", toujours créé par Your Next Stamp.
I found the flowers to brighten the day of my donkey in the "Garden Phoebe"
stamp set, again by Your Next Stamp.
Pour le reste de mon matériel, les nuages (dies Stitched Clouds de Memory Box) se promènent
dans un ciel Bazzill. Pour mes fleurs, j'ai créé un pré en teintant du papier blancavec de l'encre Distress
à l'aide de mes applicateurs Ranger.
Vous trouverez tous ces articles sur l'excellent site de la société Kerglaz.
Bien entendu, j'ai utilisé mes feutres Touch Twin Markers pour les couleurs des fleurs et de mon âne.
I also used the following items :
Stitched Clouds dies set by Memory Box, Bazzill paper, Distress Ink and Ranger's Ink Blending Tool,
all found on the excellent website Kerglaz.
And I'm using the Touch Twin Markers for my colors.
Ce bonhomme pourrait se faire pardonner n'importe quoi. Des idées pour de futures cartes ?
Any idea for the next thing this big boy could be sorry for ?
Je vous remercie d'avoir pris de le temps de venir sur mon blog
et vous souhaite une bonne fin de semaine.
I appreciate your visit of my blog and I wish you a very nice end of week.
#yournextstamp