19 mars 2018
Une de mes amies a brillamment réussi la formation d'aromathérapeute.
Il était évident que je devais créer une carte pour marquer le coup. Ne voulant pas lui porter la poisse,
j'ai attendu son message me disant que tout était ok pour me mettre au travail.
Mais c'était un de ces jours sans inspiration, je me suis donc décidée pour une carte très simple.
One of my friends brilliantly passed the exam of aromatherapist.
I had of course to create a card for her but as I did not want to bring her bad luck,
I've waited to receive her message saying she did it before starting to work on her card.
But it was one of these days without inspiration, so I decided to go for a CAS card.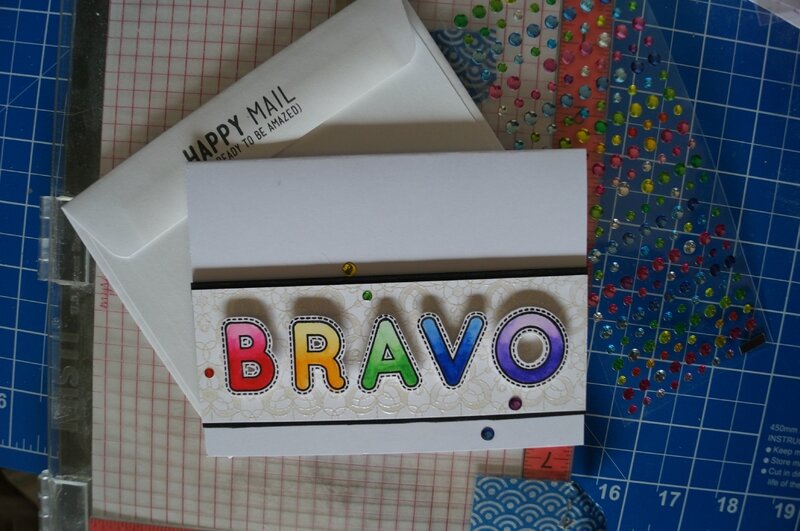 Il me restait un morceau de papier Bristol embossé avec le tampon
Kaleidoscope de Simon Says Stamps que j'avais préparé pour une autre carte.
Pour lui donner un petit quelque chose de plus, j'avais peint quelques détails du motif
en or blanc de ma nouvelle boîte d'aquarelles Gansai Starry colors.
Pour mon sentiment, j'ai sélectionné des lettres du set Stitched Alphabet, aussi de Simon Says Stamps,
que j'avais embossées et découpées également sur du papier Bristol pour un autre project.
Une carte ne peut pas être complète sans un arc-en-ciel donc les couleurs des lettres ont vite été choisies.
J'ai opté pour mes feutres Zig et le dégradé a été créé en tirant l'encre avec un pinceau à eau.
I had a piece of Bristol paper embossed with the Kaleidoscope background stamp by Simon Says Stamps
I had prepare for another card. To give it a little something, I had painted some parts of the design
using the white gold of my brand new Gansai Starry colors watercolors box.
For the sentiment, I took some letters from the Stitched Alphabet stamps set, also by Simon Says Stamps,
I had left from a previous project, which were embossed on Bristol paper too.
I used my Zig watercolor pens for the coloring and a waterbrush to create the gradient.
It was easy to chose the colors, a card without a rainbow is not really a card, don't you think so ?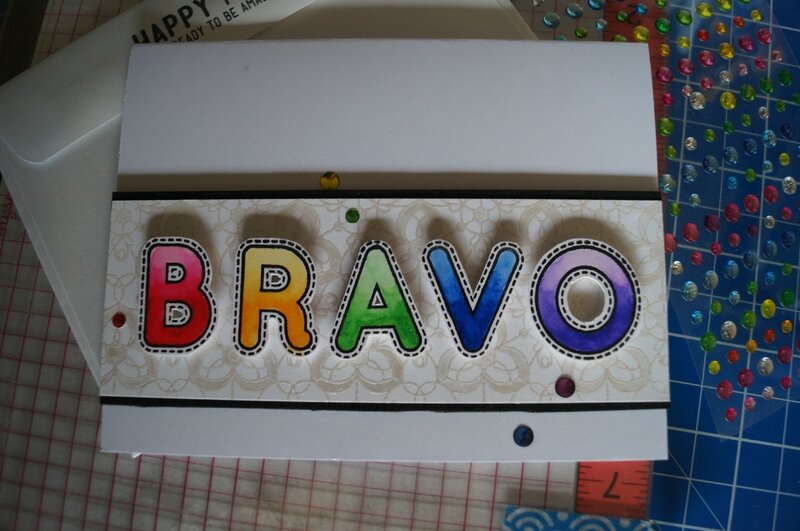 Pour le montage de ma carte, j'ai fixé les lettres de mon BRAVO en commençant par le A
afin que le mot soit bien centré. J'ai utilisé de la mousse 3D pour donner du relief au sentiment.
Ma carte étant blanche, j'ai collé la bande de carton embossé sur un morceau de carton noir
que j'ai découpé en laissant une bande de quelques millimètres en-dessus et en-dessous du motif.
J'ai fixé un rectangle de mousse sous le carton noir avant de coller le tout sur le bas de ma carte.
Quelques perles aux couleurs de l'arc-en-ciel en touche finale
et il était déjà l'heure de partir retrouver mon amie pour la féliciter de vive voix !
Now, the best part of the game, putting everything together !
To fix my sentiment « BRAVO », using 3D foam to give it some dimension,
I started with the "A" in order for the sentiment to be perfectly centered.
My card base being white, I fixed the base of my sentiment on a piece of black cardstock
using only double-sided adhesive. I adjusted it leaving a few millimeter band of black
on top and bottom of the embossed band of cardstock.
Then I fixed a rectangle of foam behind my message and adhered it to the card base.
A few colored jewels, matching the rainbow colored letters, were the final touch
as it was time to leave to meet my friend to congratulate her !
Encore BRAVO Laure, t'es la meilleure !
Congratulations to you, Laure, you're the best !
Voici encore quelques cartes que j'ai créées depuis mes débuts.
Here are a few other cards I've created since I've started crafting.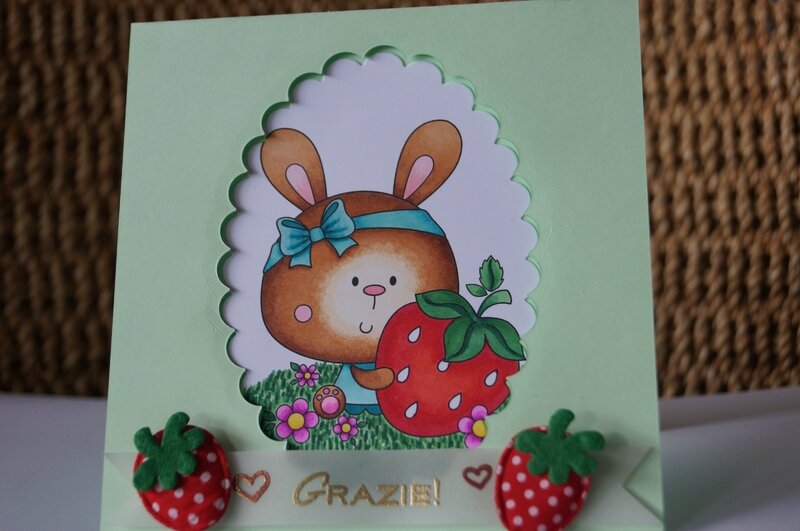 Cette carte est basée sur un modèle de CraftinDesertDiva.
Based on a CraftinDesertDiva design.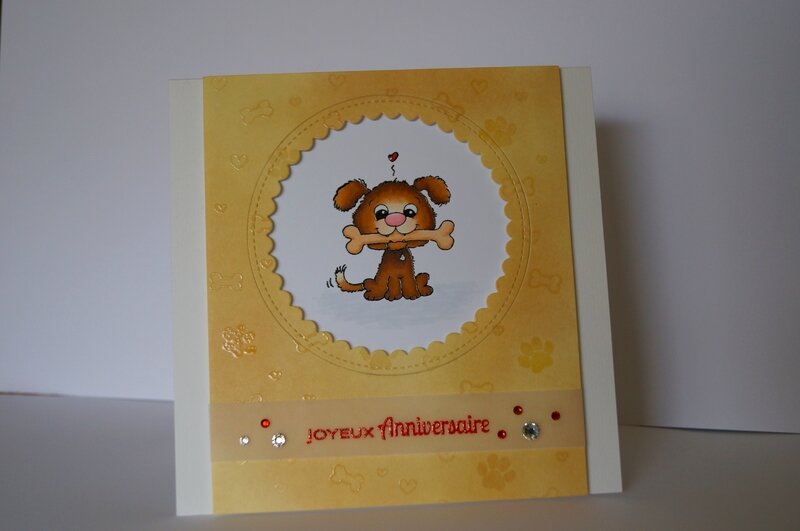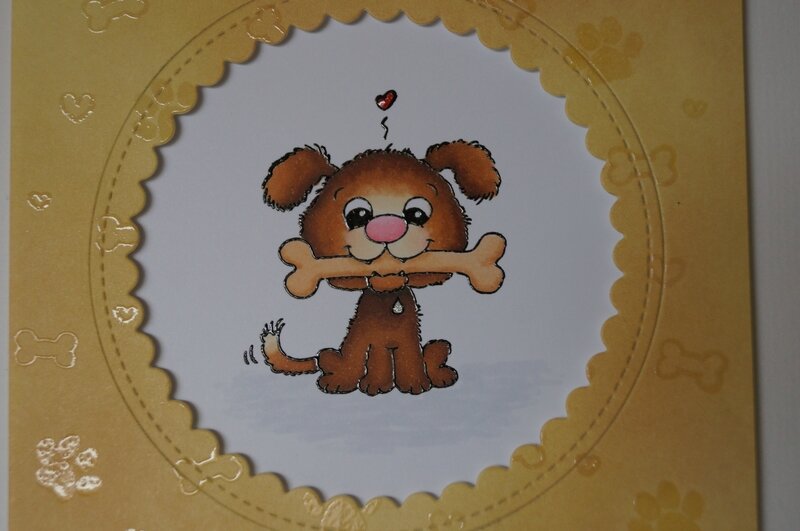 Et voilà le plus adorable des toutou, pour une carte que j'aime bien tout compte fait.
Je réfléchissais moins à ce moment, LOL !!! Le tampon a été créé par l'équipe de Your Next Stamp.
This is an adorable little doggy, for a card that I find not too bad. I wasn't pondering so much for my first cards, LOL !!!!
The stamp has been created by the Your Next Stamp design team.
Ceci termine cette présentation de mes débuts, enfin les photos des cartes présentables.
Actuellement, je travaille sur une technique avec des encres à alcool
qui est vraiment super sympa, mais comme d'habitude, mes manies prennent le dessus !
C'est impossible de vraiment contrôler le résultat, d'où mon problème avec le fait
d'utiliser ces motifs pour mes cartes. Mais j'y travaille !!!
This is the end of this presentation of my first try, at least the pictures of the presentable cards.
Right now, I'm working on the alcohol inks technique which is really fun
but as usually, my quirks are taking over !
It's impossible to really control how it will dry, and this is my problem,
I'm not ready yet to use these cardstocks for my cards. But I keep on training !
… j'ai eu besoin de créer des cartes pour divers événement.
Comme il y a bien longtemps que je n'ai rien posté, j'ai décidé de partager avec vous
les quelques photos que j'ai prises avant de les envoyer (lorsque j'y ai pensé - LOL !!!).
During these last months, I created some cards for various occasions.
As I did not post anything for a long time, I decided to share with you
the few pictures I took before sending them (when I did remember to do it - LOL !).
Voici une carte de remerciement. Le motif est une création de Newton's Nook Designs.
J'adore leur « clear stamps », surtout la collection de Newton bien entendu,
la STAR de l'équipe et une grande source d'inspiration.
Ce modèle s'appelle la sieste de Newton, mais il me fait toujours pensé à : Jamais TROP confortable !
Here is a thank you card. It's based on a Newton's Nook Designs' creation.
I love their clear stamps, specially the Newton's collection, of course,
the STAR of the NND team and an every day inspiration.
This stamps set is called Newton's naptime, but when I see it, the first think coming
to my mind is : Never TOO confortable !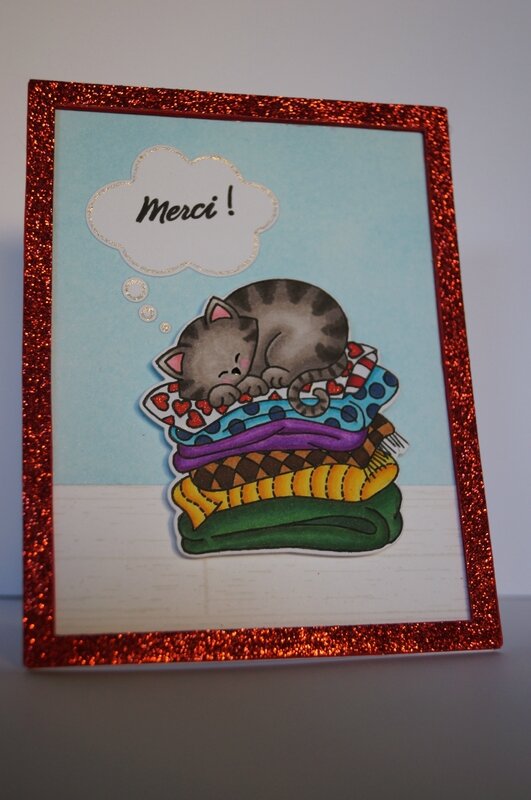 Voilà une deuxième carte créée pour un anniversaire. Le set de tampons utilisé
a été créé par Gerda Steiner, une autre brillante créatrice.
I created this second card for a birthday. The clear stamps set I used
is a Gerda Steiner's creation, another fantastic designer.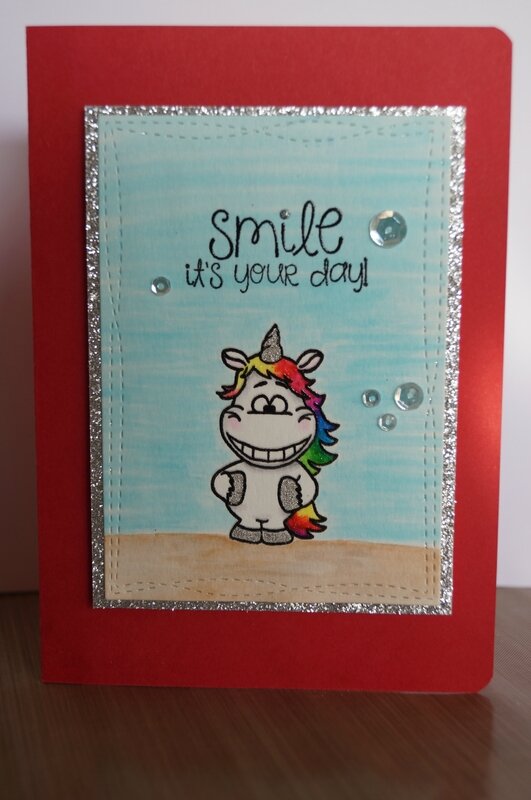 Une petite carte peut-elle aider une personne souffrante à se rétablir plus rapidement ?
Je n'en sais rien, mais au moins, elle aura apporté un peu de réconfort.
Malheureusement, j'ai à nouveau eu des problèmes avec le velum.
Je pense avoir trouvé une solution, je suis encore en phase de tests.
Can a card help someone to recover more quickly ? I don't know,
but at least, it will bring a little confort.
Once again, I had trouble with the velum. I have maybe found
a solution, but I still have to work on it.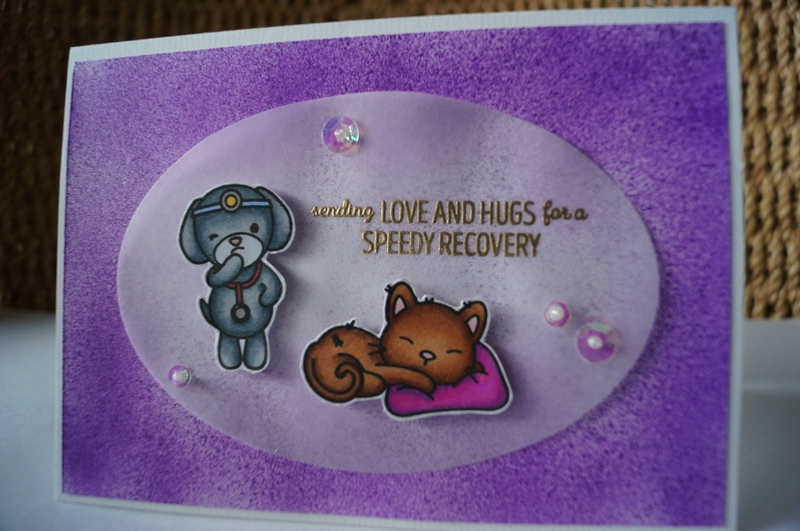 Voilà une carte créée pour un anniversaire qui tombait en automne.
J'adore les écureuils et je n'ai pas pu résister à la création de Gerda Steiner.
Et comme ces adorables petites boules de poils sont des hyper-actifs chroniques,
un « wobble » est un parfait petit plus.
I created this card for an autumnal birthday.
I love squirrels and of course, I had to get this Gerda Steiner's creation.
And as these adorable little fur balls are hyperactive, a wobble is perfect.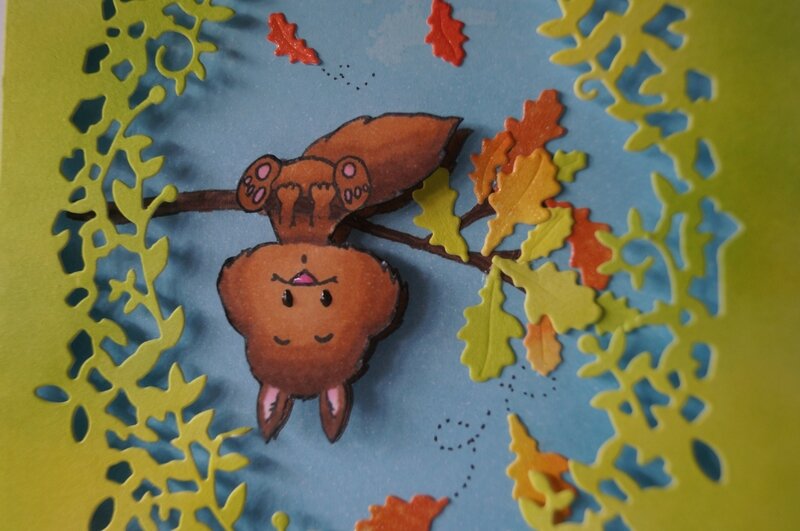 Voici 2 « shaker cards », cartes à secouer en français 😉, que j'ai créées pour
participer à des challenges, toujours pour Gerda Steiner.
I created these two shaker cards for some challenges, once again with Gerda Steiner.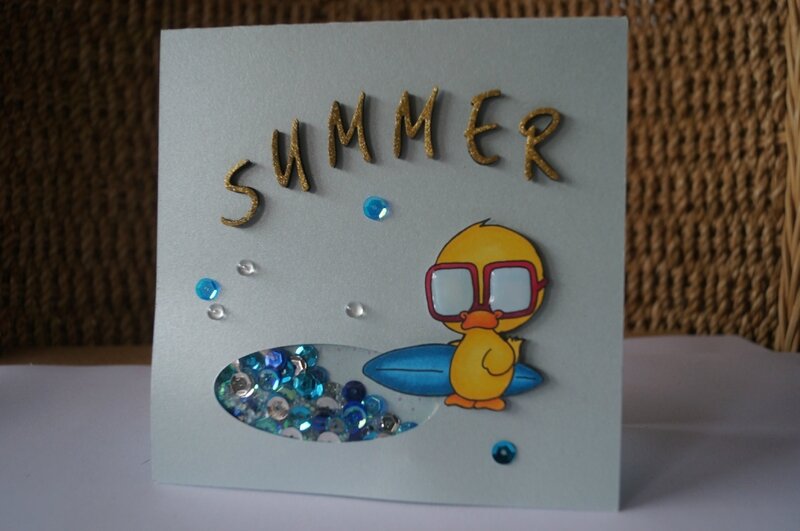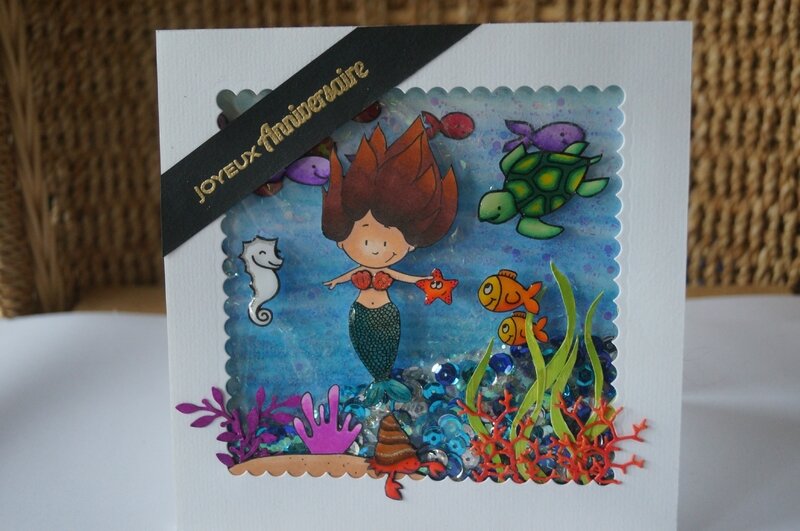 Nous voilà à nouveau chez Newton's Nook Design, mais cette fois avec un chien.
Leur set de tampon Journées d'été de chiens est absolument hilarant !
Vous allez plus que certainement le revoir sur mes cartes.
We're back with Newton's Nook Design, but this time with a dog.
The Dog Days of Summer stamps set is hilarious !
You will surely see it again on my cards.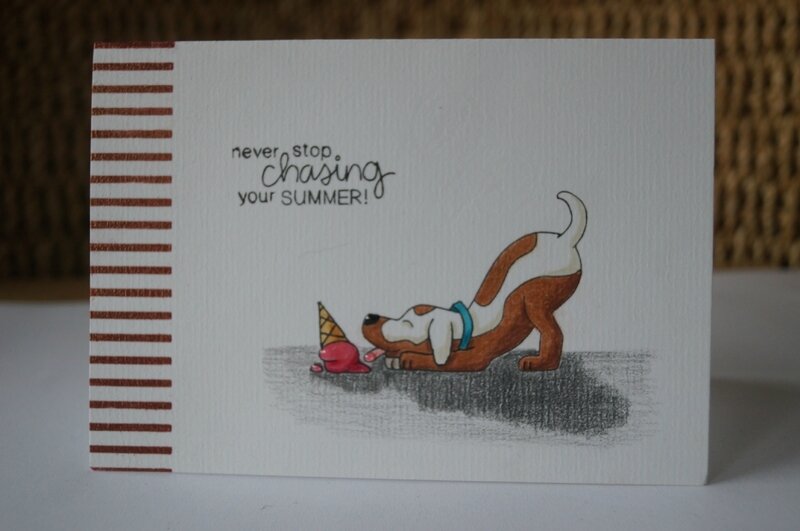 Je trouve les cartes « trifold » (pour la version française…. trois plis ???) absolument géniales.
Cet essai me plait bien. C'est à nouveau un set de tampons de Gerda Steiner,
pour une carte d'anniversaire.
I find trifold cards just awesome. So I tried and I find my card not too bad.
This is once again a Gerda Steiner's stamps set for a birthday card.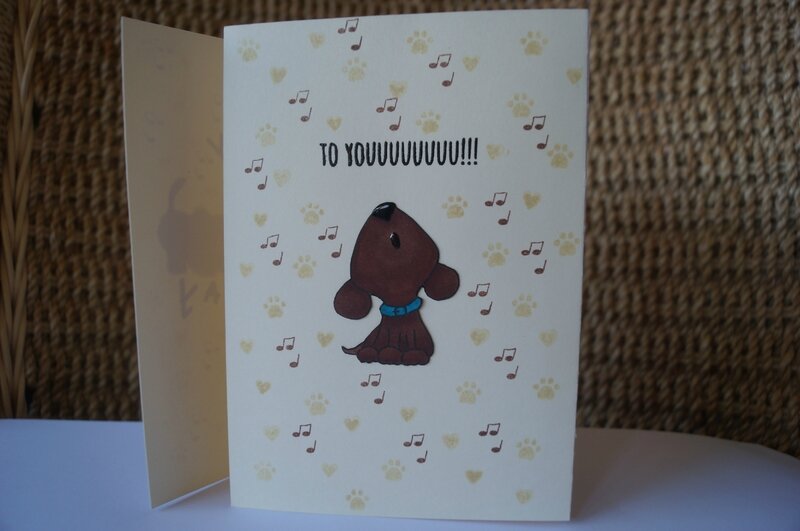 Et une fois lancée, j'ai décidé de compliquer l'exercice en y introduisant un shaker.
Cette fois, j'ai opté pour Waddles, un pingouin créé par Your Next Stamp,
une compagnie canadienne absolument géniale. Des pingouins à la plage, j'adore…..
As I was happy with the first try, I decided to make it more interesting by adding a shaker.
This time, I decided to choose Waddles as my main character. This critter has been created by
Your Next Stamp, a Canadian company absolutely amazing. Penguins at the beach… I love it !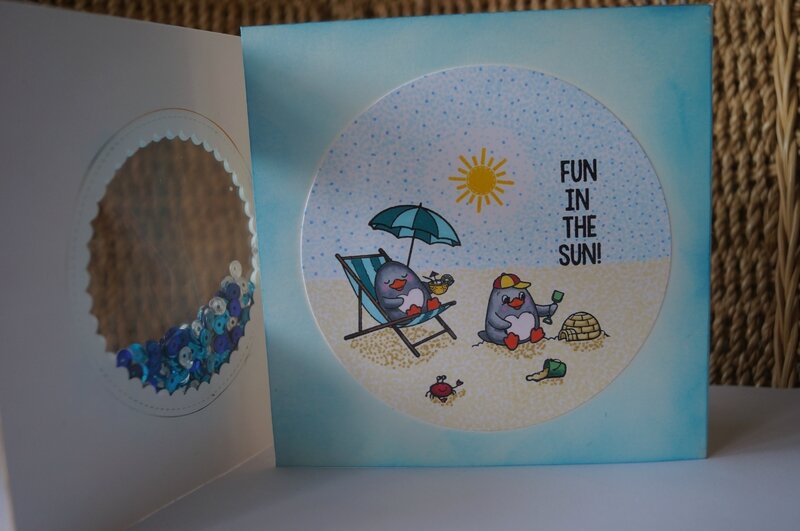 Voilà, c'est tout pour aujourd'hui. Je me rends compte que j'ai un vrai problème avec mes cartes,
j'ai toujours l'impression que mon travail n'est pas bon.
J'ai commencé des dizaines de cartes mais tous ces essais finissent à la poubelle.
Une de mes résolutions pour cette année est de finir mes cartes,
même si je trouve ce que je créée trop mauvais pour être assemblé.
Lorsque j'ai vraiment besoin d'une carte, je suis généralement contente du résultat final,
donc plus d'hésitation et de tergiversations, il faut que je progresse et ce n'est possible qu'en essayant !
Je vous souhaite une bonne semaine et vous remercie d'avoir pris le temps de visionné mes créations.
That's it for today.
I realized that I've a big problem with my cards, I always have the impression that my work is worthless.
I've started to work on dozens of cards but all these trials ended in the trash.
One of my resolution for this year is to complete my cards, even if I find the work too bad to be assembled.
When I really need a card, I'm usually happy with the final result,
so no more hesitation or dithering, I need to get better and it's only possible by trying.
I wish you a great week and I thank you to have taken the time to visit my blog.
.... lors du dernier jour de cours, nos professeurs ont suggéré de "se lâcher" !
One thing I will remember from these classes is the importance to have fun !
Il y a un outil que je n'ai pas beaucoup utilisé, une "pompe" manuelle pour souffler l'encre des feutres.
Voici le résultat avec des feutres à alcool :
There is a tool I've not used very often lately, a manual air pump to work with markers.
Here is the result I got with alcool markers :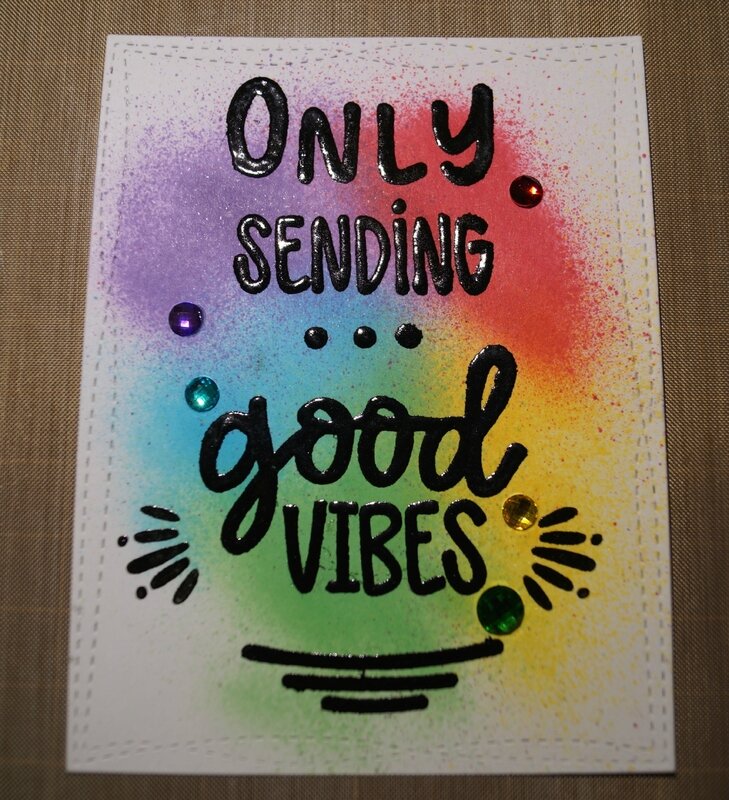 Ceci était la dernière carte que j'ai pu réaliser dans le temps imparti
pour les présenter sur le site et participer à un tirage au sort
pour gagner des bons d'achats et mais également d'autres e-classes ! Je croise les doigts…..
This is the last card I've been able to create in the allowed time
to present them in the Student Gallery.
There is a chance to win various gift certificates and other Online Card Classes.
I keep my fingers crossed !
Je vous remercie pour vos visites.
Après un long silence, voilà que je n'arrête pas de venir frapper à votre porte…. 😊
Many thanks for your visits. After such a long silence, I keep bothering you….😊
Encore une fois, je vous souhaite une bonne fin d'été !
Once again, I wish you a great and creative end of summer !
Les stencils sont des outils magiques. J'ai voulu faire un essais avec
du "ink blending" que je maîtrise.... plus ou moins !
The stencils are magical tools. I decided to try one of them
with a technique I feel more confortable with, which is ink blending.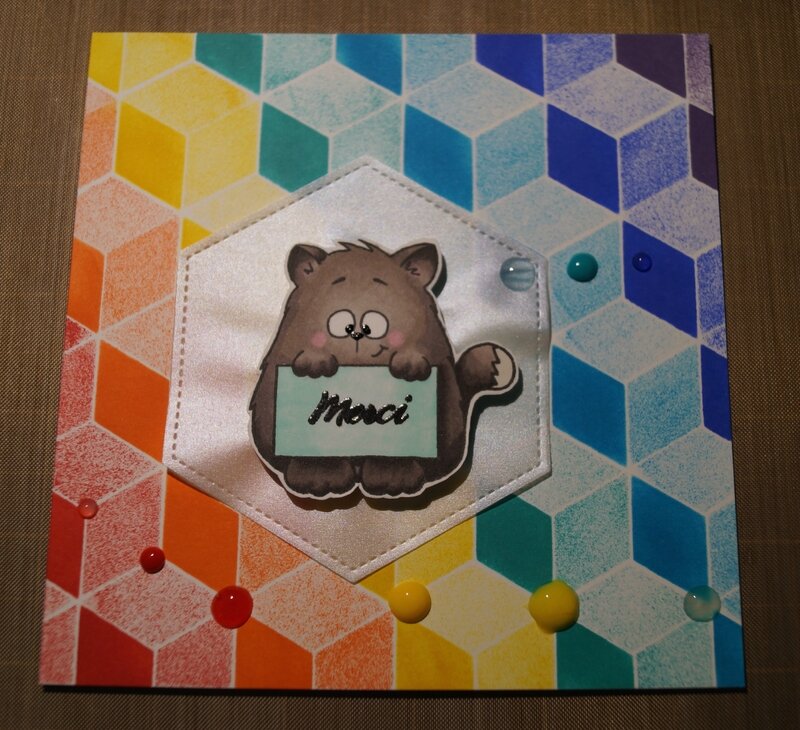 Même avec l'aide de ce mignon petit chat, pas moyen d'avoir un velum bien plat 😔!
Even with this little cat's help, not way to get the velum to stay flat 😔!
Plus qu'une carte pour cete mini présentation....
One more card to go….
I thank you again for your visits, they are very encouraging !
Je ne me sens pas encore très confortable avec l'aquarelle,
mais avec les excellents conseils de toute l'équipe de Online Card classes, tout devient possible !
I don't feel very confortable with watercolor,
but with the help of the fabulous Online Card Classes team, everything seems possible !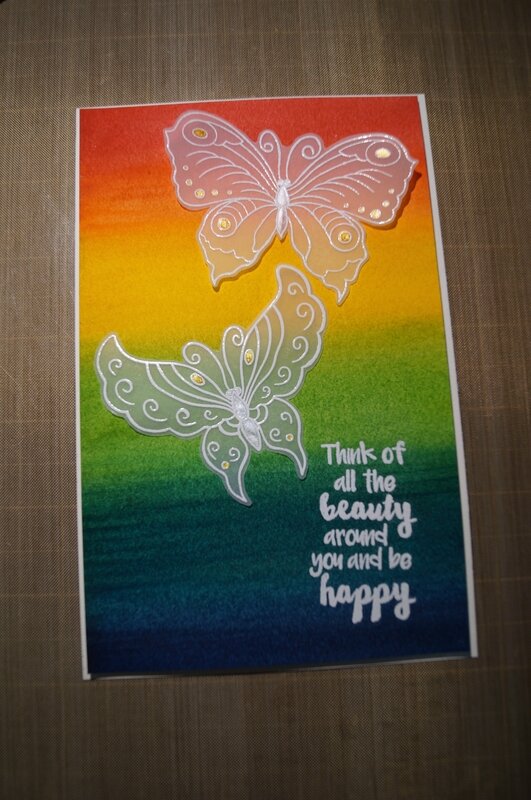 Deux papillons en plus et voilà une carte qui me plaît !
Adding two butterflies and here is another card I like !
Merci pour votre visite !
Many thank for your visit !
Voici un 2e travail sur le "ink blending" :
Here is a second work on ink blending :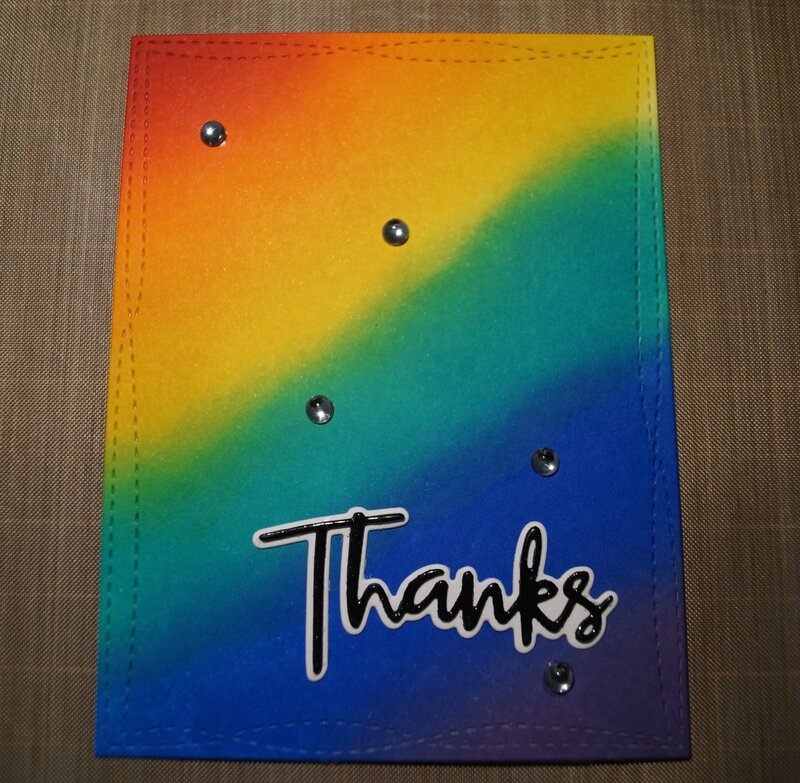 Merci pour votre visite, la suite au prochain épisode.
Many thanks for your visit !
Et oui, je suis de retour sur la toile après de longs mois !
Cette pause m'a permis d'essayer de nouvelles techniques, rien ne remplaçant
le travail pour obtenir de meilleurs résultats.
J'ai regardé des dizaines de vidéos sur internet afin d'apprendre un maximum de "trucs et astuces".
I'm finally back on the web !
This long break allowed me to try new techniques. Nothing is better than working day after day to get better !
I've also watched a lot of videos on the web to learn all the tips and tricks given by fabulously gifted crafters.
J'ai eu la chance de gagner il y a quelques jours une e-classe sur le fabuleux site Online Card Classes.
Pour une première, je ne pouvais pas mieux tomber, le thème de la classe était les arc-en-ciel et je les adore !!!!!
Voilà quelques uns de mes premiers essais, disons que ce sont les moins mauvaises cartes 😉.
Un premier essai utilisant la technique "ink blending" :
A few days ago, I've been lucky enough to win an e-class on the awesome website Online Card Classes.
I had never followed an e-classe. For a first time, the theme of the class could not be better : I love rainbows !!!
I will present you the first « homework's » I've done up to now,
at least the ones which are not too bad, no need to bother you with all the bad ones 😉.
Here is a first work, using ink blending :
Je tiens à remercier toute l'équipe de Online Card Classes ainsi que May Sukyong Park de m'avoir offert
l'opportunité de découvrir le monde des e-classes. C'était vraiment super et je vais plus que
probablement renouveler l'expérience pour continuer à m'améliorer.
Je vous remercie pour votre visite et vous souhaite une douce fin d'été !
I want to thank all the Online Card Classes and May Sukyong Park to have given me
this great opportunity to discover the E-Classes.
I had fabulous time watching the classes and working on them
and I will certainly follow other Online Card Classes to improve my work.
I greatly appreciate your visit and I wish you a sweet end of summer !
J'avais besoin d'une carte un peu plus classique pour un anniversaire.
Comme je m'y suis prise à la dernière minute, j'ai opté pour une carte simple,
utilisant le die Butterfly Block de Impression Obsession.
I needed a card a little more classic than usual for a birthday.
It was a last minute idea, so I decided to go for a simple one layer card,
using the Butterfly Block die from Impression Obsession.
Il y avait un moment que je voulais refaire une carte avec ce superbe die.
Pour mes découpes, j'utilise une Big Shot. C'est un outil génial et très pratique,
pas besoin de prise électrique, elle fonctionne à l'huile de coude.
Pour les couleurs, j'ai utilisé mes feutres Touch Twin Markers. Une fois les couleurs
du motif terminées, il m'a fallu trouvé une solution pour cacher tous les dépassements
(il faut vraiment que je prenne rendez-vous chez mon ophtalmologue !).
Je n'avais malheureusement pas de die rectangles à la bonne taille pour faire un cadre
et comme le temps me manquait, j'ai opté pour un stylo Uni Ball Signo.
Simple mais efficace et en plus, je trouve que cela donne une touche d'élégance à ma carte.
I had not used that die for some time and I had pleasure to create this card
with this absolutely beautiful die. I'm using the Big Shot with my die.
This is a great tool, no electricity needed, it's working with elbow grease !
As usual, I used my Touch Twin Markers for my coloring.
I needed something to cover the « extra » coloring (yes, I know, I have to change my glasses).
I did not have any rectangle die adapted to the size of the Butterfly Block.
And as I was missing time, I used an Uni Ball Signo pen.
Simple but efficient at hiding my mistakes and I think it added elegance to my card.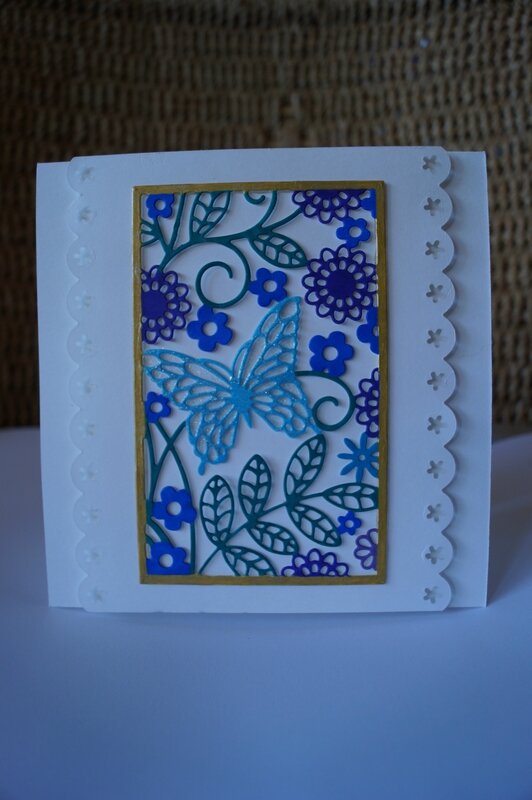 En regardant les créations sur mes blogs préférés, j'ai pris goût aux paillettes.
J'ai donc sorti mon Wink of Stella Brush pen et j'ai ajouté du brillant au papillon.
Même si je l'avais mis en évidence avec une couleur plus claire, cette petite touche
de lumière le rend encore plus vivant, enfin façon de parler.
Watching video's tutorials on my favorites blogs, I got a taste for sparkles.
I took my clear Wink of Stella Brush pen and added some shine to the butterfly.
This touch of light makes it more vibrant, can I say alive ?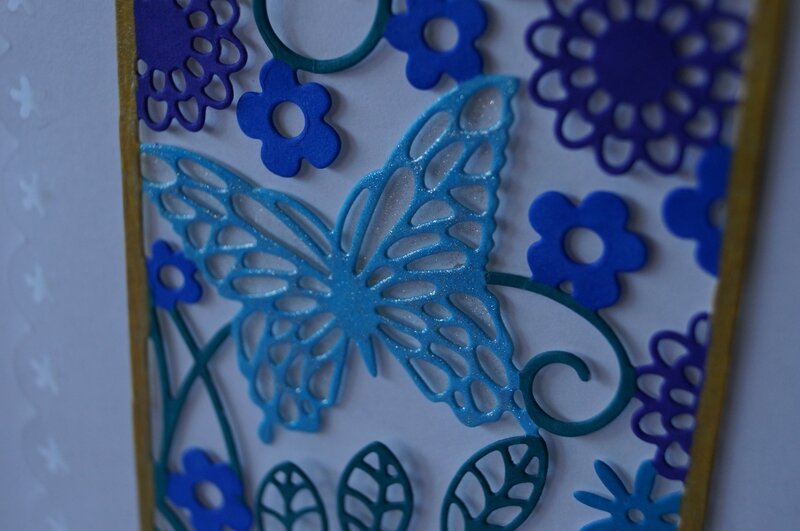 J'aimerais faire une remarque à propos d'un de mes fournisseurs.
Je fais beaucoup d'achat sur le site français Kerglaz. Leurs livraisons sont
extrêmement rapides et le choix offert sur leur site est très étendu.
Malheureusement leur système informatique ne comprend pas la fonction « liste de cadeaux »
et ne donne pas la possibilité de se faire avertir lors du ré-approvisionnement
d'un article en rupture de stock. De ce fait, je ne peux pas mettre leur site en lien
pour les articles achetés chez eux. C'est regrettable et je ne peux que vous encourager
à aller visiter leur site.
Je vous remercie d'avoir pris le temps de visiter mon blog
et je vous souhaite une bonne journée.
Many thanks for visiting my blog. I wish you a great day.
Je suis certaine qu'il vous est déjà arrivé d'oublier l'anniversaire d'une personne
et que vous ne savez pas comment vous faire pardonner.
J'ai la solution : le rire !
I'm sure you have already forgotten to send a card to a good friend on time
for his/her birthday. This will help you :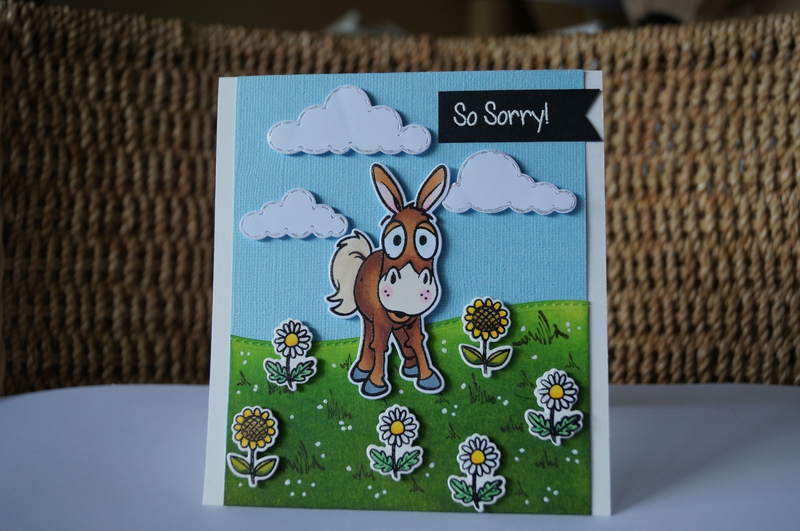 Vous voyez, vous souriez ! Comment résister à ces grands yeux implorant le pardon ?
Aren't you smiling ?
It's just impossible to resist to these big eyes asking for comprehension.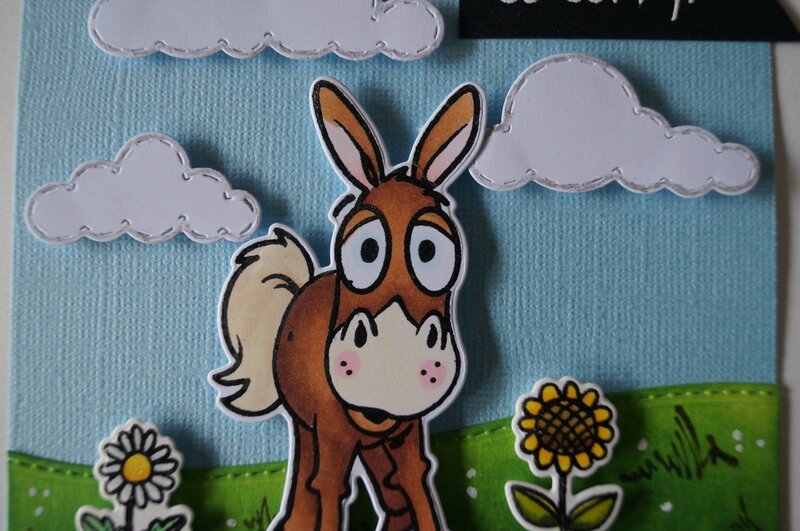 Le tampon utilisé pour cette carte fait partie du set "So Sorry", créé par Your Next Stamp.
Comme toujours, ce sont des clear stamps de très grande qualité.
Pour l'intérieur de ma carte, j'ai sélectionné un des excellents sentiments du set.
For this card, I used the clear stamp set "So Sorry" by Your Next Stamp.
As usual, the quality of these stamps is just fabulous.
And the sentiments of the set are hilarious. I used one for the inside of my card.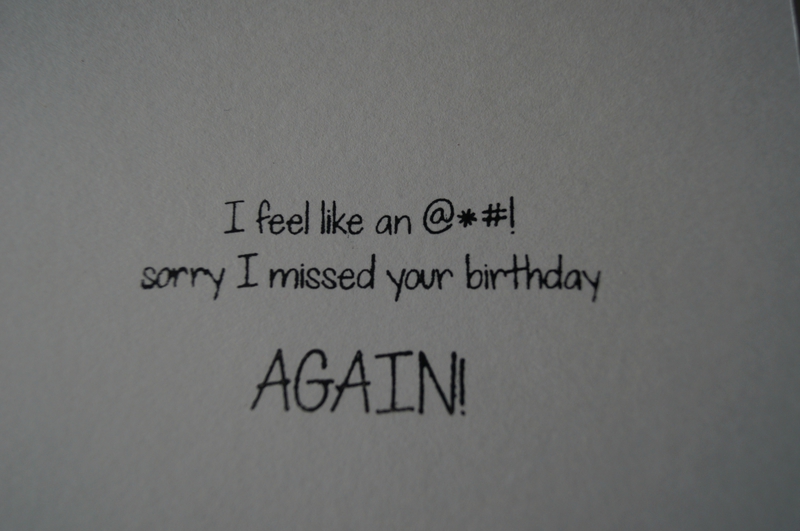 Pour remonter le moral de mon petit âne, j'ai pensé qu'il aimerait être entouré de jolies fleurs.
Je les ai trouvées dans le set "Garden Phoebe", toujours créé par Your Next Stamp.
I found the flowers to brighten the day of my donkey in the "Garden Phoebe"
stamp set, again by Your Next Stamp.
Pour le reste de mon matériel, les nuages (dies Stitched Clouds de Memory Box) se promènent
dans un ciel Bazzill. Pour mes fleurs, j'ai créé un pré en teintant du papier blancavec de l'encre Distress
à l'aide de mes applicateurs Ranger.
Vous trouverez tous ces articles sur l'excellent site de la société Kerglaz.
Bien entendu, j'ai utilisé mes feutres Touch Twin Markers pour les couleurs des fleurs et de mon âne.
I also used the following items :
Stitched Clouds dies set by Memory Box, Bazzill paper, Distress Ink and Ranger's Ink Blending Tool,
all found on the excellent website Kerglaz.
And I'm using the Touch Twin Markers for my colors.
Ce bonhomme pourrait se faire pardonner n'importe quoi. Des idées pour de futures cartes ?
Any idea for the next thing this big boy could be sorry for ?
Je vous remercie d'avoir pris de le temps de venir sur mon blog
et vous souhaite une bonne fin de semaine.
I appreciate your visit of my blog and I wish you a very nice end of week.
#yournextstamp